Earrings are one of the most popular pieces of women's jewelry. You can buy them or make them yourself. What are earwires? What types of earwires are there?
What are earwires?
Many women choose earrings with earwire clasp because it minimizes the possibility of unhooking the earrings and losing them. This type of clasp is great for massive, heavy jewelry.
Types of earwires:
open – the most popular clasp for handmade earrings. They differ in the way they bend. Earrings with this type of clasp are very easy to lose because they fall out of the ear during intense head movements;
open lace type – designed for richly decorated or oriental designs handmade earrings;
fish – very simple and safe open clasp earrings. Thanks to the elongated tip they hold well to the ear;
closed straight – classic closed earwires with a loop. The simple form emphasizes the charm of the pendant;
closedwith a ball – closed earwires, where the ball keeps the pendant in place;
lyra type – decorative earwires, which are placed in the middle of the earring. This type of clasp looks best with single stones;
english – decorative and very safe closing of earwires. It is impossible for the pendant to open by itself;
handcuffs – round, closed earwires which look best with round pendants;
for Swarovskicrystals – this type of earwires has special "catches", which stabilize the crystals;
posts – post earwires are a perfect solution for each type of earrings, because they stabilize the earring, regardless of its size;
clip-on earrings – not having pierced ears does not mean that you have to give up wearing earrings. The best solution for such people are earwires for clips. Thanks to them you can create beautiful clips.
Earwires can be divided according to the method of fastening, in which case open and closed earwires are distinguished. The safest way is to use closed earwires, so that the earrings will not be lost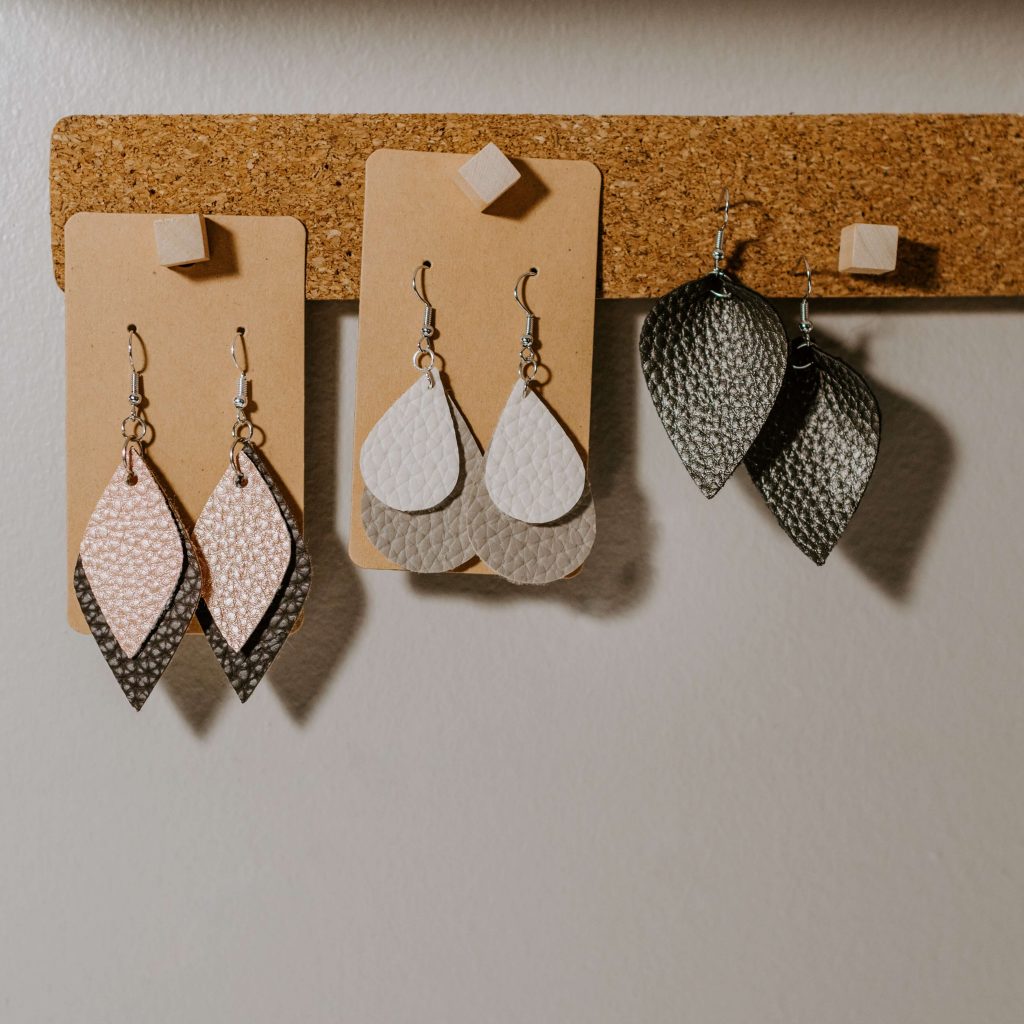 What are earwires made of?
Earwires may be made of different metals. Mostly surgical steel earwires are used to create handmade earrings, which are the best solution for people with allergies. Mostly silver earwires are used for handmade earrings.
When choosing earwires, you should pay attention to: the size of the earrings and the shape of the earrings.
Lamb as an inseparable element of each earring
Earwires are an inseparable part of each earwire. They protect the part of the earwire protruding beyond the ear, and thus minimize the risk of earring loss. The following types of earwires are available
silicone – made of translucent material;
silver – usually used with posts;
silver silicone earrings – perfect for stick-on earrings.
Earrings are one of the most commonly worn pieces of jewelry by women. When choosing earrings, you should pay attention to the visual aspects and the type of clasp