Aerography is a technique of applying paint to a surface without touching it. It is used, among others, in the beauty industry, industry, auto tuning, confectionery or handicrafts.
One of the devices used in this technique is an airbrush. It is a small tool, easy to use and inexpensive, which makes it a widely available, universal and versatile solution. It will be particularly useful when we need to apply a very thin layer of paint on the surface, make a precise painting or paint small elements. Its advantages can especially appreciate craftsmen who often face such challenges, although it should be mentioned that not everyone likes to airbrush
How does an airbrush work?
The tool is connected via a high-pressure hose to a compressor. When the trigger lever (trigger) is pressed, compressed air is delivered to the device, which sucks up the paint placed in the tank as it moves. The nozzle outlet is blocked by an adjusting needle
When you press the trigger, it moves and creates a gap through which the air/paint mixture escapes to form a jet. The harder you press the trigger, the larger the gap will be and the larger the spray will be. The particles sprayed with an airbrush have a microscopic dispersion, so the paint layer adheres flat without roughness or bumps.
An airbrush consists of:
body;
paint container;
nozzle with directional cap;
trigger;
regulating needle;
valve;
hose connection;
spring and nut.
In addition, you will need a compressor and an air supply hose to work with the device.
Airbrushes come in several types, but the most popular are two: single-action and double-action. The former controls only the air, while the latter controls the air and paint supply.
Single-action tools are inexpensive and have few components, making them easy to use and clean. However, small spots or stripes cannot be applied with them, and they are also difficult to adjust.
Working with a double-action airbrush allows for better precision, but such devices are more expensive and more difficult to use, have a large number of components and require careful care. Their cleaning is quite a time-consuming activity.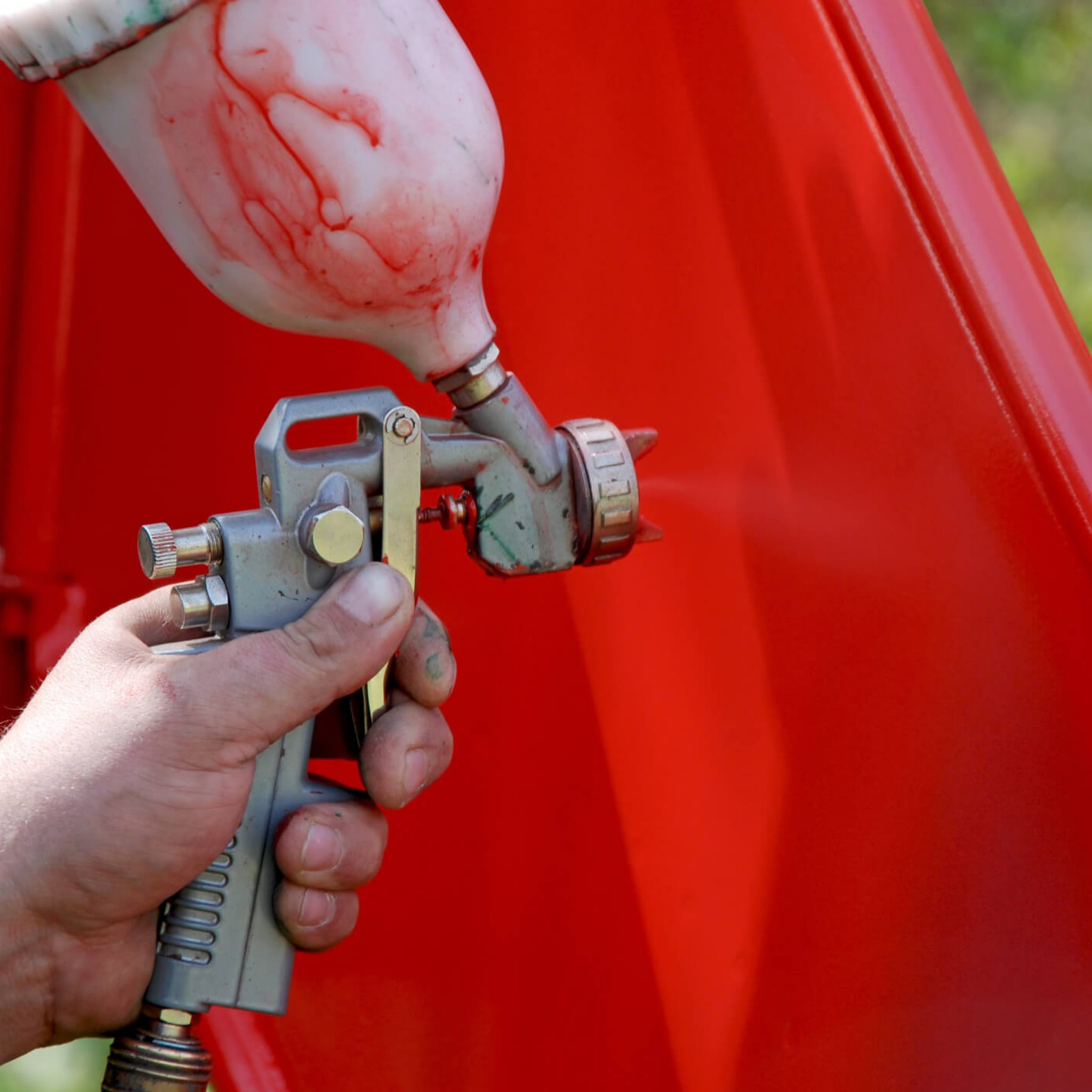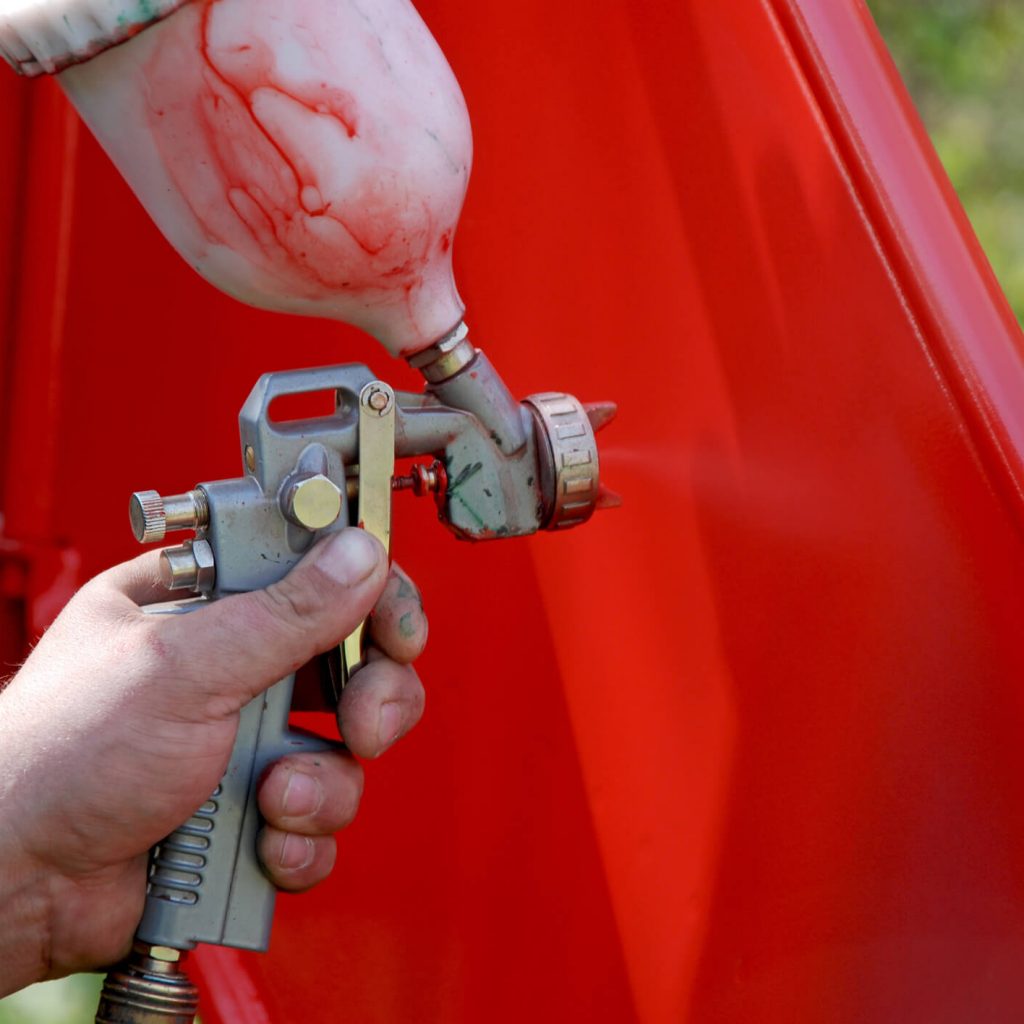 Airbrush applications and capabilities
Despite its small size, an airbrush is a very useful and versatile tool. With its help, you can paint an image with fine details and almost photographic quality. The device can be used by designers in purely painting works, to cover with paint small areas and edges.
Paints used in airbrush after spraying are able to split into microparticles and can be prepared on different bases, which makes them suitable for painting almost all surfaces: wood, metal, paper, plastic, ceramics and fabrics.
With their help, complex drawings are made on the body of cars, as well as bicycle frames. There are also devices with which complex designs are created on nails, as well as special airbrush for confectionery products.
Criteria for choosing an airbrush
Usually inexpensive airbrush with a thin nozzle and needle are used. Even beginners can work with such a device. However, those who want to professionally engage in airbrushing should consider several things when choosing:
the volume of the dye tank, preferably larger than 2 ml;
the sealing of the needle and nozzle – painting will be more comfortable if the seals are made of Teflon;
the diameter of the nozzle in high-quality airbrush should be at least 2 mm;
basic components, such as the tank, trigger and nozzle should be easily replaceable;
seals should be protected against the effects of the reagents used;
possibility of pressure regulation and paint feeding.
Rules of working with an airbrush
Even inexperienced craftsmen use an airbrush, because working with it is not difficult. How to use such a tool correctly? To achieve satisfactory results, you need to follow the basic rules:
1.Start painting in a test area. If the device is poorly calibrated, it can shoot a spot of paint and spoil the whole composition or project.
2.Apply the paint carefully, in even motions. This will prevent streaks or other imperfections from forming.
3.Don't hold the tool too close to the surface, as the paint layer will be uneven, leading to drips.
4.When you're done, clean the device with a solvent that matches the composition of the paint you used.
The advantages of working with an airbrush are obvious – low price, easy operation, precision and wide range of applications. This is certainly a device that will come in handy for every craftsman and artist.